DFW Pollard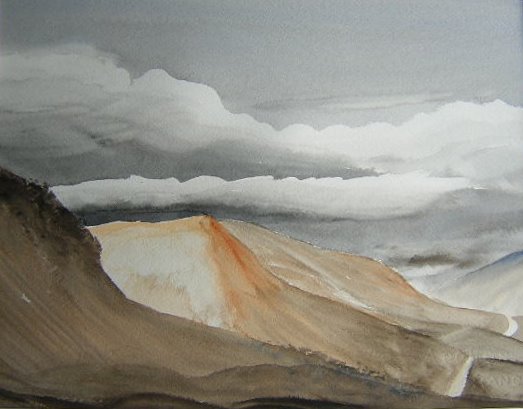 176 Trout River skies IV Trout River Gulch September 17, 2006 [watercolour 11x15 in]
From his earliest memories, nature has been Doug Pollard's passion. Growing up in London, England, he could not get into the countryside fast enough. Seven years at the University of Wales, Aberystwyth, gave him not only a Ph.D in Botany, but a lasting love of mountains and wild, open landscapes. In 1965 he took a position at the Wildfowl and Wetlands Trust, Slimbridge, as a specialist in waterfowl habitats. The Trust was home to his unwitting mentor, Sir Peter Scott, known worldwide as a naturalist and a wildlife artist.
In 1967, Doug was invited to join the International Biological Program forest productivity project at Petawawa, Ontario. He remained with the Canadian Forest Service (CFS) for the rest of his career, conducting research into the physiologicy of tree growth. In 1969 he began studies into climate change and its relationship to forests, a topic of great current interest. For six years he was senior policy advisor for the CFS, with special responsibility for environmental issues; he was a lead author of the second assessment of the Intergovernmental Panel on Climate Change. Doug was also a pioneer in ecological interpretation, initiating the coast-to-coast Ecotour project for the Trans-Canada Highway in 1972 (a project recently revived under the auspices of the Royal Canadian Geographical Society.) He retired from the Pacific Forest Centre, Victoria, in 1996, after leading a large research project into the characteristics of old growth forests of Vancouver Island. He has over a hundred scientific publications to his name.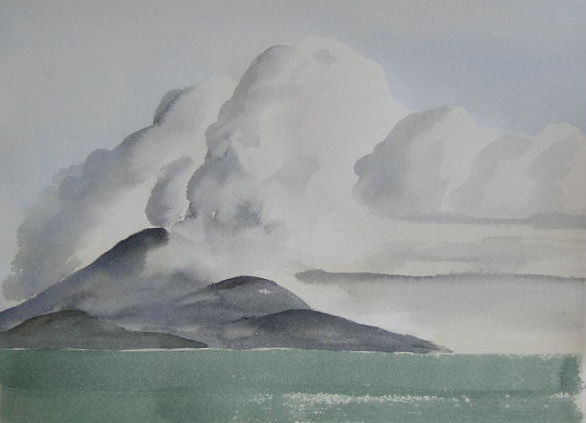 168 Lesquiti and Texada Islands
22 June 2006 [watercolour 11x15 in] [private collection]
Interested in art from an early age, and given to sketching throughout his life, Doug began painting after he arrived in Canada. He was immediately captivated and at times overwhelmed by his first experiences of real wilderness. He discovered something very special about Canadian landscapes: they had inspired brilliant painters. In the Ottawa Valley he found himself in the country Tom Thompson and the Group of Seven had sketched for some of their exquisite paintings. His own ventures into painting at this time were focussed on bird carvings; for a brief period Doug carved water birds of Ontario.
In 1978, Doug remarried, and with his wife Penny moved to British Columbia, where they found a strong community of artists on the west coast. They included Toni Onley, whose watercolours captured in a few strokes the essence of British Columbia's landscapes. Onley inspired him to concentrate on watercolour. The medium suited Doug's desire to record impressions of places he visits in pursuit of good hiking, fishing, and bird watching.
His passion for fly fishing has taken him to many parts of western Canada in the company of Gary Cooper and his "Nice Fish" film team; Doug carries his sketch book and paints on these excursions. A Past-President of the Haig-Brown Fly Fishing Association of Victoria, B.C., Doug remains active in conservation activities. Doug also writes about fishing and has completed a book, "Peetz, a reel for all time" (Heritage House, pub.) tracing the history of wooden reels manufactured by Victoria's venerable tackle maker.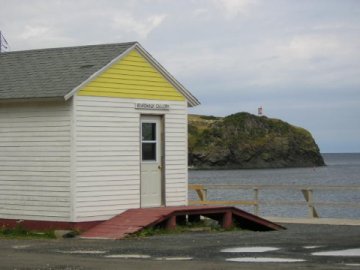 The Boardwalk Gallery in Trout River, Newfoundland
His paintings now embrace landscapes across Canada, particularly in Penny's home province of Newfoundland. Even in retirement, there are just too many rivers, too many grandchilden (there are ten), and too many untravelled lands to allow time for all the painting he wants to do. Which is probably why Doug likes to spend time in Newfoundland, where demands diminish, and beckoning landscapes can be answered with the brush. Conception Bay, where Penny spent her childhood, provides magificent coastal landcapes; to the west lies Gros Morne National Park, with its stunning geology and ecology, and its truly exceptional skies.